International Journal of Recent Advances in Medical & Pharma Research
International Journal of Recent Advances in Medical & Pharma Research is a scholarly peer review, open access, refereed journal established with the aim of focuses on integrating theory, research and practice in the area of Medical and Pharmaceutical Researches and Developments. It aspires to bring academicians, researchers, doctors, medical as well as pharma industry people and practitioners together. IJRAMPR bridges the gap across medical and pharma communities vis a vis its multiple disciplines with a view of sharing information and to provide a platform for debate with the widest possible audience, doctors, researchers, academicians, medical as well as pharma experts.
IJRAMPR has a particular interest in trans-disciplinary and interdisciplinary approaches focusing on the issues relevant in contemporary medical world. IJRAMPR considers scientific papers in all areas of Medical and Pharmaceutical sciences.It serves as a forum for review, reflection and discussion informed by the results of recent and on-going research.The journal is dedicated to increasing the depth of Pharma and Medical Sciences across disciplines with the ultimate aim of improving medical research IJMPR will cover all areas of basic, clinical, experimental, preventive and social medicine.
IJRAMPR welcomes and acknowledges high quality theoretical and empirical original research papers, case studies, review papers, literature reviews, book reviews, conceptual framework, analytical and simulation models, technical note from researchers, academicians, professional, practitioners and students from all over the world. All manuscripts submitted in IJRAMPR are pre-reviewed by the editor, and if appropriate, sent for blind peer review. Contributions must be original, not previously or simultaneously published elsewhere, and are critically reviewed before they are published. Papers, which must be written in English, should have sound grammar and proper terminologies.
We warmly invite you to submit your manuscripts to International Journal of Recent Advances in Medical & Pharma Research and share the results of your endeavour with other researchers all over the world.
Focus & Scope:
The International Journal of Recent Advances in Medical &Pharma Researchcovers all the key issues in its field including:
Basic Sciences:
Anatomy,biochemistry,biomechanics, biostatistics, biophysics, cytology, embryology, endocrinology, epidemiology, genetics, histology, immunology, medical physics, microbiology, molecular biology, neuroscience, nutrition science, pathology, photobiology, radiobiology, toxicology, and surgery.
Medicine:
Cardiology, critical care medicine, endocrinology, gastroenterology, geriatrics, haematology, hepatology, infectious diseases, nepatology, oncology, pediatrics, pulmonology, pneumology, respirology, rheumatology, sleep medicine.
Diagnostic Specialities:
Clinical laboratory, pathology as medical specialty, radiology, nuclear medicine, clinical neurophysiology.
Other Major Specialities:
Anesthesiology, dermatology, emergency medicine, family medicine, family practices, general practices, obstetrics, gynecology, medical genetics, neurology, ophthalmology, pediatrics, physical medicine and rehabilitation, psychiatry, preventive medicine related to community health or occupational medicine or aerospace medicine.
Interdisciplinary Fields:
Addiction medicine, medical ethics, biomedical engineering, conservation medicine, disaster medicine, diving medicine, evolutionary medicine, forensic medicine, gender-based medicine, hospice and palliative medicine, hospital medicine, laser medicine, medical humanities, medical informatics, nosology, nosokinetics, pain management, sexual medicine, sports medicine, therapeutics, travel medicine, urgent care, veterinary medicine, wilderness medicine, medical management, etc.
Pharmaceutical Science:
Pharmaceutical and medicinal chemistry; organic, inorganic and analytical chemistry; pharmaceutical analysis, drug control, pharmaceutical technology, pharmaceutics, phyotchemistry, pharmacognosy, pharmaceutical microbiology, biopharmacy (biopharmaceutic, pharmacokinetics, biotransformation), experimental and clinical pharmacology, pharmaceutical biology (pharmacognosy), biotechnology, pharma management, etc.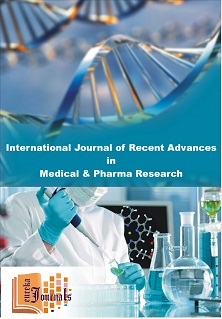 Important Notic
Attention to Authors
Call for Paper For coming issue of "International Journal of Recent Advances in Medical & Pharma Research"